The unspeakable truth about slavery in Mauritania (The Gardian)
 For all the government's denials, slavery persists in Mauritania. In a rare insight into the lives of the tens of thousands of people affected, photojournalist Seif Kousmate spent a month photographing and interviewing current and former slaves. While there, he was arrested and imprisoned by police, who confiscated his memory cards, phone and laptop
In 1981, Mauritania made slavery illegal, the last country in the world to do so. Nonetheless, tens of thousands of people – mostly from the minority Haratine or Afro-Mauritanian groups – still live as bonded labourers, domestic servants or child brides. Local rights groups estimate that up to 20% of the population is enslaved, with one in two Haratines forced to work on farms or in homes with no possibility of freedom, education or pay.
Slavery has a long history in this north African desert nation. For centuries, Arabic-speaking Moors raided African villages, resulting in a rigid caste system that still exists to this day, with darker-skinned inhabitants beholden to their lighter-skinned "masters". Slave status is passed down from mother to child, and anti-slavery activists are regularly tortured and detained. Yet the government routinely denies that slavery exists in Mauritania, instead praising itself for eradicating the practice.
Members of Mauritania's leading anti-slavery organisation, the Initiative for the Resurgence of the Abolitionist Movement (IRA), hope to oust the majority Arab-Berber government in national elections next year. The IRA leader, Biram Ould Abeid – a Haratine who was imprisoned for years before coming second in 2014's national elections – has vowed to remove President Mohamed Ould Abdel Aziz, who came to power in a 2008 coup and has since dismantled the Senate in what critics see as a bid to broaden his powers.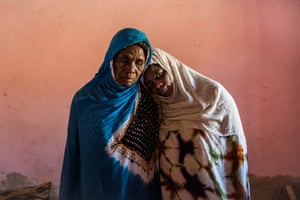 Fatimatou and her daughter Mbarka, above, were slaves to a family in the Aleg region, roughly 250km from the capital, Nouakchott. "They called me 'Fatma the servant': I looked after the cattle, prepared food, and fetched water from the well," says Fatimatou. "I lost two babies to this family because they prevented me from taking care of my own children. I was forced to work when I had just given birth." Fatimatou was freed with her children in the early 1990s by the organisation SOS Slaves. Today, she lives with her family in one of Nouakchott's working-class neighbourhoods.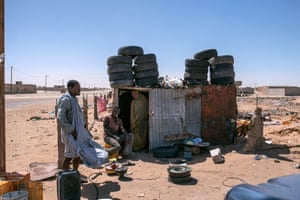 Former slaves Habi and her brother Bilal, above left, stand in front of Bilal's garage outside Nouakchott. The siblings were both slaves to a family east of the capital, but Bilal fled suddenly one day after his master beat him. After several attempts to rescue his sister, who was a victim of sexual abuse and forced labour, she was finally freed with the help of SOS Slaves in 2008. Today, the pair live in a poor neighbourhood on the periphery of Nouakchott. With the help of some activists, Bilal recently opened a small tyre-mounting garage.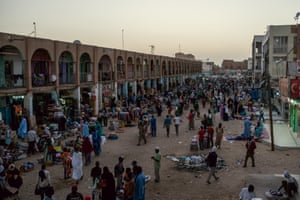 Mauritania is a bridge between the Arab Maghreb of north Africa and darker-skinned sub-Saharan Africa. The ruling Arab-Berbers have higher paid positions in jobs and government, while the darker-skinned Haratines and Afro-Mauritanians are under-represented in leadership positions and face many obstacles in society, from access to education to well-paid jobs.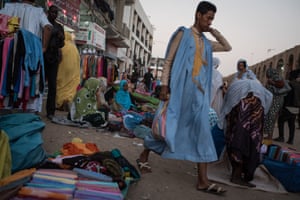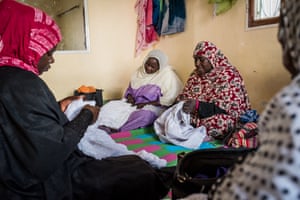 Haratines do many jobs that Arab-Berbers consider dirty or degrading, such as working in local markets. Sos Slaves provides workshops to help empower Haratine women, most of whom are unemployed, poor and have little or no education. Some workshops teach recently freed slaves about money – what it is and how it is used – while others teach Haratine women skills such as embroidery or sewing, which help them to earn money for the first time in their lives.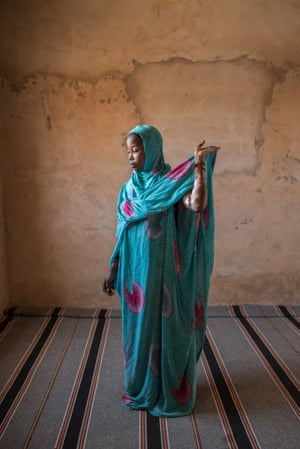 Mabrouka, 20, was a child when she was taken from her mother, also a slave, to serve with a family in the south-western Rosso area. Around the age of 11, when she was cooking for her masters, she was badly burned on her left arm. She still suffers from the pain. Mabrouka was 14 when she was freed in 2011, but was never able to go to school. She got married at the age of 16 and is now the mother of Meriem, four, and two-month-old Khadi.
A Tarhil neighborhood resident outside her house, where she was relocated by the state when her slum in Dar Naim was demolished to make way for the construction of a road. Married, with two children, she sells biscuits to passersby while her husband holds small jobs in the city. "If we had the budget, we would have rented a room in Nouakchott. Here, we don't even have water – we have to pay for a cart to deliver water," she says.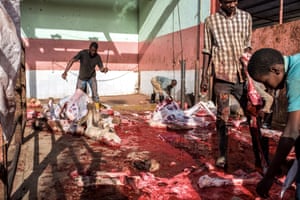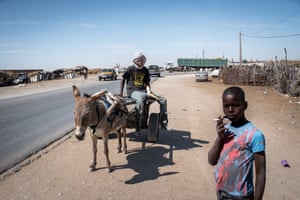 Haratines work in certain professions that are designated for their caste alone, such as butchery and rubbish collection. Above, on the left, men at a slaughterhouse prepare cattle for sale in Nouakchott. The picture on the right shows Youssef, 18, who is in his third year of secondary school in Nouakchott. A few days a week he works as a rubbish collector to help support his family.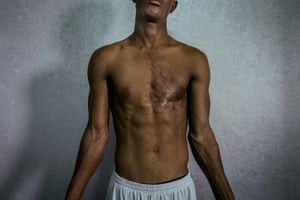 Moctar was born into slavery in an Arab-Berber family, where he was forced to work alongside his mother and brother. In 2012, after several attempts, he managed to escape and met an activist from the anti-slavery movement. He tried to liberate his mother and brother, but they refused to go with him. His mother even criticised his escape and testified against him. "When I was younger, my mother told me every night that we must respect our masters, because their caste is higher than ours, and they are saints," says Moctar. He started school at 13 and hopes to become a lawyer, in order to fight for the rights of the Haratines.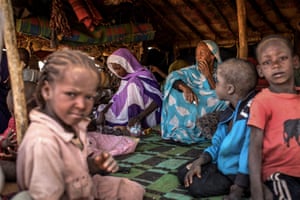 Meryem (in blue) lives in Znabeh, a small village comprised of former slaves. In 2014, following the death of their father, the children of slavemaster Sheikh Mohammed freed four women and their children: Meryem, Aïcha, Beïga, and Merine. They all fled with their children and grandchildren and settled near a water source. They now survive off of their small holding and the little food it brings.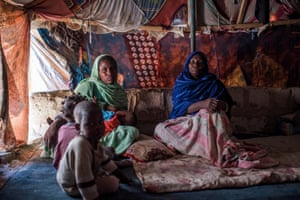 Salma, above right, served for more than 50 years as a slave in a white Moorish family in northern Mauritania's Chagar region. Her children were also born into servitude.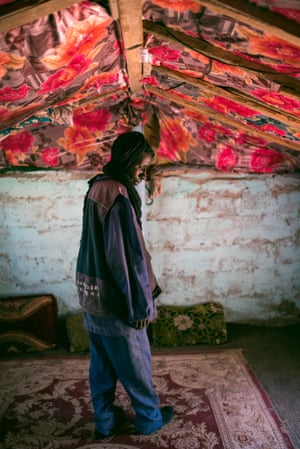 In 2013, Salma and her daughter Yema were released by her two sons, Bilal and Salek (pictured above), who had escaped a few years earlier. But Yema twice ran back to her master's family. Today, she is married and has two children. Salma, Yema and her brothers now live together in a slum in Dar Naim.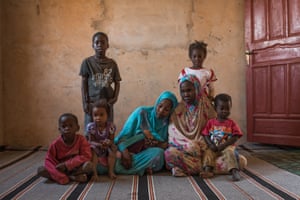 Aichetou Mint M'barack was a slave by descent in the Rosso area. Like her sister, she was taken away from her mother and then given to a member of the master's family to be a servant. She got married in the home of her masters and had eight children, two of whom were taken away from her to be slaves in other families. In 2010, Aichetou's older sister was able to free her with the help of the IRA Movement, after she herself fled her masters when they poured hot embers over her baby, killing it. Aichetou and her eight children are now free and live together in Nouakchott.
Jabada, below, is over 70. She fled her master after he tied both her hands to a tentpole, which cut off one finger entirely and deformed the others. She is now unable to use her hands. Taken in by another family who helped heal her wounds, Jabada stayed with them until her freedom in the 1980s. She now lives with her children and grandchildren in one of Nouakchott's poor neighbourhoods.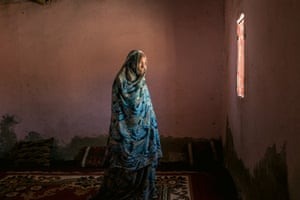 https://www.theguardian.com/global-development/2018/jun/08/the-unspeakable-truth-about-slavery-in-mauritania