Anti-slavery campaigner and IHEU partner faces political charges in Mauritania


Anti-slavery campaigner Biram Dah Abeid was arrested on 10 November in Mauritania. The award-winning human rights campaigner has worked with the International Humanist and Ethical Union (IHEU) at the United Nations, campaigning for human dignity and an end to slavery in Mauritania. Biram is president of the NGO Initiative for the Resurgence of the Abolitionist Movement (IRA) and stood as an opposition presidential candidate in 2014.
IHEU condemns the arbitrary arrest of Biram Dah Abeid and his colleagues, on charges which speak volumes about the political nature of the crackdown: "disturbing public order, inciting the crowd, rebellion and belonging to an illegal organization".
IHEU president Sonja Eggerickx said, "His detention is already a punishment, for nothing more than his dedication to human rights and freedoms. Biram Dah Abeid campaigns in the face of cultural and religious oppression, facing threats and intimidation by the authorities, and this is an overtly political prosecution. We call for the immediate release of Biram Dah Abeid and all the abolitionist campaigners arrested with him."
Biram was arrested on November 10, 2014, during a peaceful sit-in near Rosso, South West of Mauritania. He and his followers were charged by police using teargas grenades. M. Abeid and numerous of his followers, including the vice-president of the NGO, have been jailed in Rosso. Their conditions of detention are violent and torture have been reported. Meanwhile, the headquarters of his NGO in Nouakchott, the capital, have been surrounded and the spokesperson arrested. Five other members of his NGO have been detained in Nouakchott on political charges as of Sunday, November 16.
Biram Dah Abeid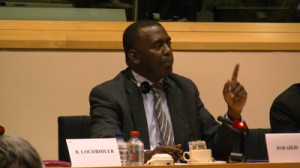 Biram Dah Abeid
Ealier this year, Biram won the United Nations Human Rights prize, which IHEU welcomes as a validation of anti-slavery work at the UN, in the face of continuing resistance by Mauritanian state authorities to recognise slavery and segregation as ongoing problems.
Of the arrest, a notice by Amnesty International said: "Laureate of the United Nations Human Rights Prize, like Martin Luther King Jr. and Nelson Mandela before him, the abolitionnist M. Abeid peacefully advocates against slavery in his native country of Mauritania, West Africa. Himself the son of a freed slave, M. Abeid dedicated his life to set his fellow Black people free. He ran second at the latest presidential elections of Mauritania and testified in front of the European Parliament, the United Nations and the U.S. Congress.
"In 1981, Mauritania became the last country in the world to abolish slavery, while making no provision for punishing slave owners. In 2007, under international pressure, it passed a law that allowed slaveholders to be prosecuted. Yet slavery persists there, even as the government and religious leaders deny it. Although definitive numbers are difficult to find, the Global Slavery Index estimates that at least a hundred and forty thousand people are enslaved in Mauritania, out of a population of 3.8 million."
Biram is regularly targeted by the authorities for his human rights and political activities. Reports indicate that along with Biram Dah Abeid, colleagues also detained include: Mr. Brahim Bilal Ramdhane, Mr. Khattri Rahel, Mr. Dah Boushab, Mr. Abidine Matalla, Mr. Samba Diagana, Mr. Mahmoud Hassan, all members of the IRA, and Mr. Djiby Sow, president of the NGO Kawtal, NGO partner of the IRA.
It is also reported that since their arrest, their phones have been confiscated, and they are now isolated with no contact with the outside world and unable to speak to a lawyer. The information received indicates that some of them are being held at the police and others in the direction of safety.